How to choose the best dental insurance for you?
When shopping for dental insurance, it can be tough to determine which is best for you. If you're lucky, your employer may offer dental insurance, and therefore you may just contact your HR department to ensure benefits. 
Suppose you are not one of the lucky ones whose employer offers free dental coverage. In that case, you should be aware that each dental insurance company provides different coverages depending on your needs. 
Let's overview a few of the major companies and see what fits for you. We accept all PPO insurances at each of our Thrive Dental locations and believe they can be an excellent fit for most people.
Can't afford Dental Insurance? Not to worry! Take advantage of our Thrive Dental Discount Plan, where we offer our dental services at a significant discount. All you have to do is pay a low annual membership fee of $149!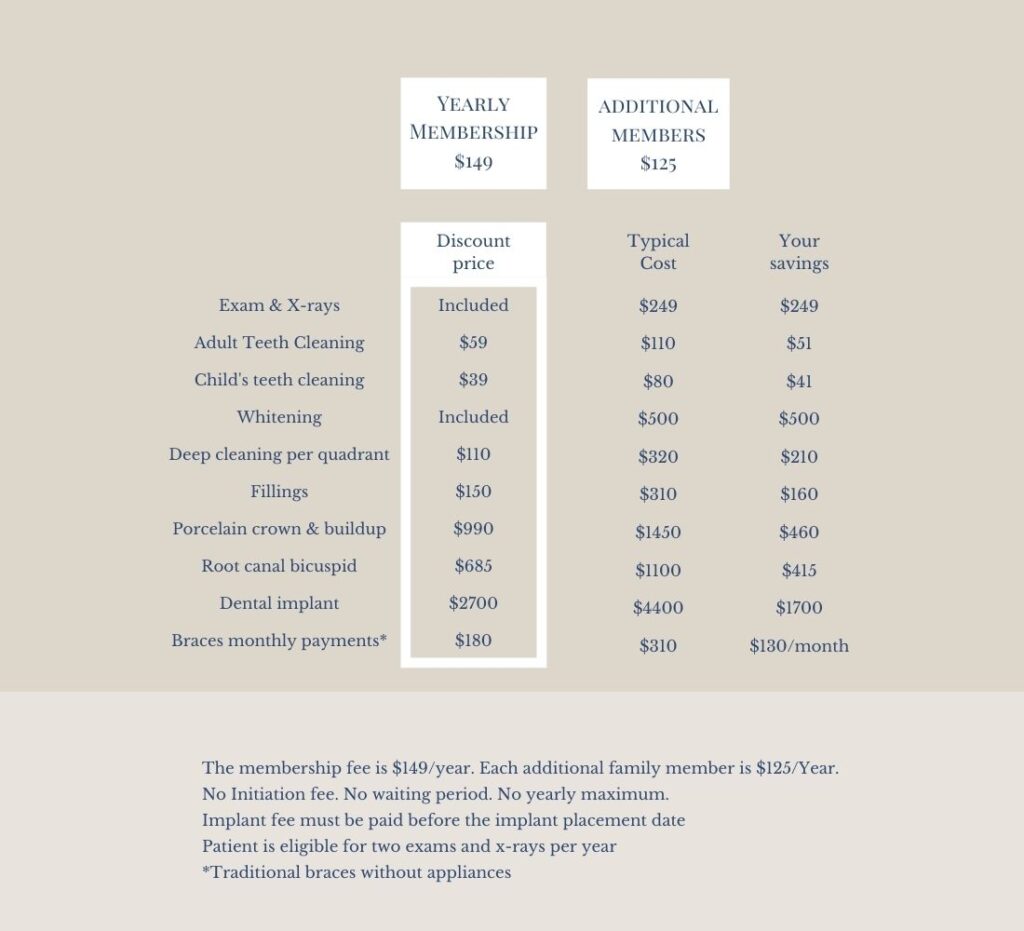 We believe everyone deserves excellent dental care and that it should be affordable.
Before choosing dental insurance, make sure you know the waiting periods, deductible amounts, procedure copays, and maximum yearly benefits. You may also want to look into orthodontic coverage if you are planning on starting braces or Invisalign.
What does dental insurance cover?
Dental insurance typically covers preventive (exams and Xrays) and portions of your other treatment. Many will also offer partial coverage on metal and clear braces as well as Invisalign.
Dental insurance typically does not cover purely cosmetic procedures such as teeth whitening and veneers.
How much does dental insurance cost?
If your employer offers insurance, then it is typically more affordable than purchasing it on your own. Your employer may cover the full amount or a partial amount of the premium.
Insurance costs vary greatly depending on the amount of coverage you prefer and your deducible level. Some insurances will cover a more significant percentage of your treatment and even offer orthodontic coverage for adults.
Most dental insurances will also cap the maximum amount of general dental services covered anywhere from $1000 to $2000.
Is dental insurance worth it?
Depending on your dental needs, dental insurance may not be worth it.
When you come to our Thrive Dental offices regularly and typically just need regular cleaning, likely dental insurance is not for you.
If you just need regular cleaning and exam, you will likely spend anywhere from $150 to $250, which does not justify getting dental insurance.
Yet, if you have not been to your dental office for a long time and you need a lot of dental work, then obtaining the best dental insurance possible would benefit you greatly.
Many dental crowns can be $800, and therefore, if your insurance covers 80% of those crowns, you will likely benefit from dental insurance.
Delta dental
Delta Dental is the largest provider in the United States. They have over 150 000 practicing dentists in their network at around 330 000 locations.
Delta Dental is designed to help families who are on a strict budget.
DeltaCare USA: The plan gives you a broad range of coverages with no waiting period, annual maximum, or deductible. There are copayments for nearly every procedure you decide to get. This plan is very similar to an HMO plan or Discount Plan.
There is a limited list of dentists who would accept this plan as the reimbursements are very low; therefore, you may be forced to go to a dental office you do not like.
Delta Dental PPO: This plan gives you 100% coverage for essential preventive care services such as routine cleanings and exams.
You choose any Dentist you like (Thrive Dental!), and you typically pay a percentage of the total cost of a procedure. Therefore if you need a filling, you may only pay 20% of the total cost, and the insurance pays the remainder.
Humana dental
Humana is one of the largest dental insurers as well. They offer a wide range of dental plans. According to their website, enrollees may save up to 60% when choosing to work with a dentist in their network.
You may also get a discount if you enroll in vision along with dental at the same time.
There are at least five or more plans to choose from, all of which offer various deductibles and coverage percentages.
Complete Dental from Humana offers 100% coverage for preventive services (after deductible). 80% coverage for basic services and 50% coverage for major services.
This type of coverage can be beneficial if you know you have a lot of dental treatment needed.
Thrive discount plan
We offer an in-house discount plan at our offices. This plan can only be used at our offices but can be a great alternative to traditional dental insurance.
Our plan includes a yearly fee and then severely discounted dental services.
For example, deep cleaning will typically cost anywhere from $200-400 per arch, but under our plan, it costs around $100 per arch.
Included in the membership are two exams and two sets of Xrays a year. This plan is excellent for someone who does not have access to dental insurance or knows they want to stay at one of our offices.
Conclusion
Insurance can be beneficial if you use it correctly and obtain the proper coverage.
If you go to our offices regularly and only need regular cleanings, then likely dental coverage is not required.
If you know you will have many dental needs, then obtaining proper dental insurance can save you a lot of money.