What are braces?
Braces for teeth come from orthodontics – a special field of dentistry that focuses on positioning the teeth and jaw.
There are several types of problems in orthodontics. The first one is malocclusion (aka bite misalignment). Examples of this are underbites and overbites.
Other forms of malocclusion are:
overcrowding
spacing issues
missing teeth
crooked teeth
overjet
open bite
These conditions can cause poor confidence and self-consciousness and can even affect eating, smiling, and speaking.
The good news is that orthodontics done right can fix these problems with great results and have a very high satisfaction rate.
Types of braces
With so many types of tooth movement appliances available today, you might be wondering, "which braces are right for me?"
Here are the costs, appearance factors, and the pros and cons of each type of braces:
Traditional metal braces
These are the quintessential type of braces that everyone knows. Metal braces use metal brackets attached to the front of the teeth. The teeth are guided by an archwire that slowly aligns the bite.
Some systems use elastic ties to assist the movement of teeth. And some brackets (self-ligating) utilize custom clips instead.
Make sure to discuss any metal allergies, like nickel, with your orthodontist as there are alternative options available.
Pros

fast results
variety of color choices

Cons

most noticeable type of orthodontic appliances
white spots can develop around the brackets with poor oral hygiene care.
Ceramic braces
Ceramic braces are a great option if you're looking for something more discreet and natural. The brackets used are clear and blend in with your teeth.
Pros:
Cons:

difficult to clean thoroughly to prevent staining
more expensive than traditional braces
not an option for severe malocclusions
not as strong as metal braces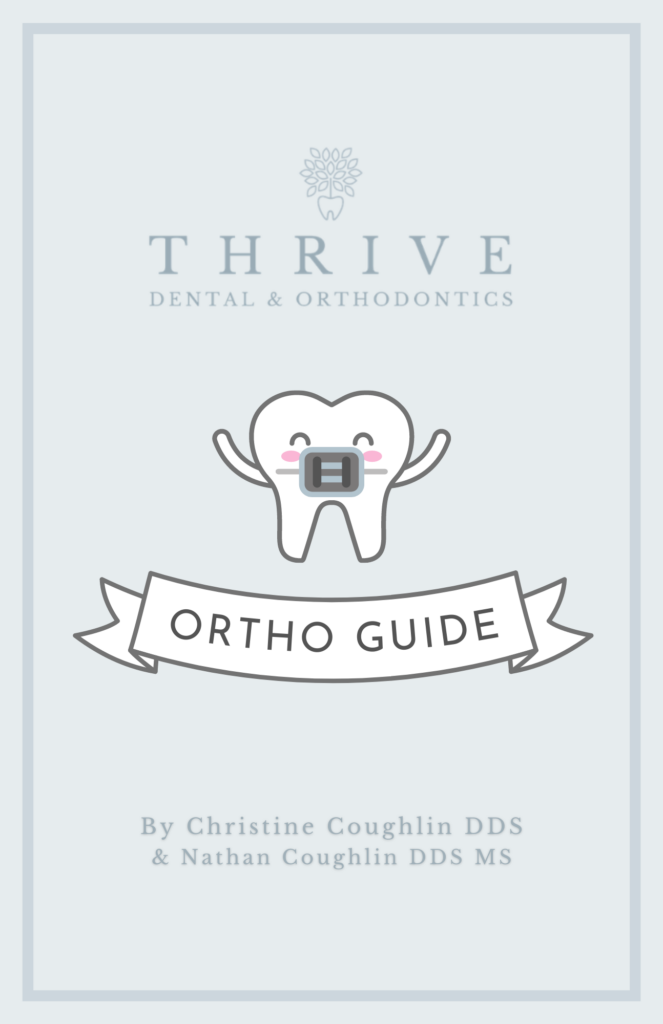 Download my FREE Ortho Guide, made just for you, to answer all your questions about braces and how to give yourself the best chance at a beautiful smile for life.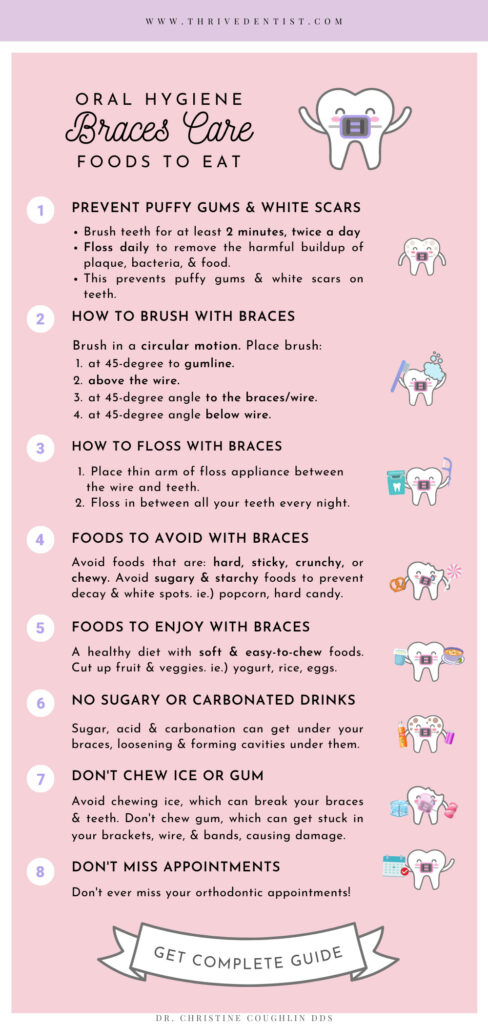 Damon braces (self ligating)
Damon braces are a branded type of self-ligating bracket system. Dr. Damon has patented his system, and it has gotten recognition throughout North America.
What are self-ligating braces?
They are braces that have "doors" on them. This means that to keep the wires in the brackets, the "doors" do the work instead of elastomeric colors.
You may not need your typical colors to hold in the wires we need with normal metal and clear braces. If you want to have colors placed on your brackets for fun, most offices will still allow this, but it will not affect your treatment in self-ligating braces.
If you need to close spaces with Damon braces, the orthodontist will still need to use power chains or springs to close spaces.
Pros:

Can go longer in between visits as you do not need to change colors
It may be able to straighten teeth faster but may not reduce overall treatment time.

Cons:

"Doors" get stuck if proper oral hygiene is not maintained.
Some offices may not provide color bands as they are not needed.
Few offices use this technique; therefore, transferring between offices is more difficult.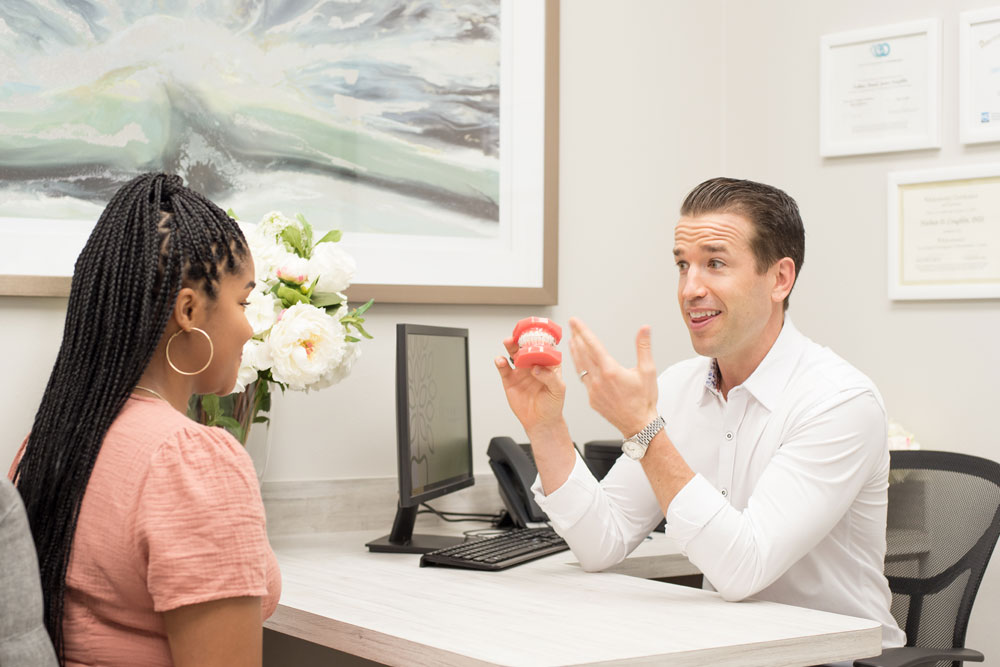 Are braces painful?
When we are moving teeth, you have to understand what we are doing to understand the discomfort issue. We are moving your teeth within your jaw. Essentially we are moving bone through bone.
This may sound unusual or difficult, but millions of people go through this process every day. As the teeth move, they remove bone in the area; they move towards osteoclasts and add bone from the areas where the teeth were via osteoblasts.
How to reduce pain from braces?
The inflammation from tooth movement causes pain. We recommend acetaminophen for discomfort as aspirin will slow down the inflammation process needed for tooth movement.
Chewing on sugarless gum or chewies may reduce discomfort as well. Everyone experiences varying levels of discomfort. Some patients will experience little to no pain for treatment duration, whereas others will have a few weeks of pain.
What braces colors should I get?
Determining the color of your braces is a big decision for many people. You must keep in mind the braces do not change color rather it's the elastomeric ties on the braces.
The colors of the rubber bands can be changed at every visit. Therefore if you choose to have blue for one month, you can change the colors next month. At our office, if the patient realizes they do not like the color they have on, we allow them to come back and change it if it does not affect the treatment.
How much do braces cost?
The cost of braces varies depending on treatment time, appliances used, and your insurance.
The longer your treatment time, the higher the cost of braces. At our offices, the cost for patients is roughly $180 per month without insurance. This will vary depending on treatment time and the need for appliances or extractions.
Are braces covered by insurance?
Orthodontic coverage is dependant upon your specific insurance. Many insurances will have a lifetime maximum. Typical insurances will have anywhere from $1000 to $ 3500-lifetime maximum to be used towards any orthodontic coverage, including Invisalign.
When looking at insurances for braces coverages, be sure to check age limits, waiting periods, and lifetime maximums.
Age limits determine the maximum age the insurance will cover until. Many insurances will cover until the age of 26 or have no age limit, but that depends on your insurance.
The waiting period determines the amount of time that you must wait until your insurance becomes effective. Many insurances will make you wait 6 or 12 months before paying for any orthodontic coverage.
Lastly, if your insurance covers work in progress, you can get braces before you have your insurance, and it will start paying once your insurance becomes effective.
Keep in mind most insurances will not pay their full lifetime maximum in one initial payment. The insurances typically pay over 12 to 24 months; therefore, if you lose your insurance during that time, you will be responsible for all payments the insurance did not pay.
Braces without insurance
You can get braces without insurance. Varying your down payment can change your monthly office. Many patients opt to place a larger downpayment to make their monthly payments less.
And ask us about our exclusive, limited time only: $180/Month Braces Special!
Braces near me
When looking for braces near me, make sure to look for an orthodontist who has experience accomplishing what your treatment goals are. Most orthodontists are proficient at obtaining great orthodontic results, but you must look at reviews before finding a dental office near you.
Braces for your teeth allow the orthodontist to close gaps, straighten teeth, fix your bite, and many other things.
Are braces or invisalign more expensive?
Due to the large lab fee associated with Invisalign or any clear aligners, they are typically more expensive than traditional braces.
You may find good deals for either braces or Invisalign; therefore, to get exact pricing, I would recommend going to a complimentary orthodontic consult to see all of your options.
Conclusion
Braces are a safe and easy way to straighten your teeth and give you more confidence.
Make sure you know your braces options so you can make the best choice for yourself.
Come in for a Complimentary Orthodontic Consultation so we can help answer all your questions about braces.
And take advantage of our exclusive, limited time only: $180/Month Braces Special.
by Dr. Nathan Coughlin
Learn more:
Invisalign Vs. Braces Which One is Better?
Invisalign: cost, pros and cons, what to expect
Braces: 5 Powerful Ways They Change Your Life
Braces: how much do they cost, braces colors and rubberbands