Braces have been around for a long time, but they are more popular now than ever. Not only are teens interested in straightening their teeth, but since the invention of clear braces and Invisalign, adults are more eager than ever to get that straight smile.
What are braces?
Braces come in a wide variety of shapes and sizes. They are typically either metal, gold, or clear ceramic.
There are two main sizes of brackets (a 0.018″ and 0.022″ slot sizes). There is also a wide variety of prescriptions that are built into the brackets.
Along with two main sizes and many different prescriptions, many vendors manufacture braces. The hundreds of braces are why it is often difficult to find a new orthodontist that will take on cases from other orthodontists.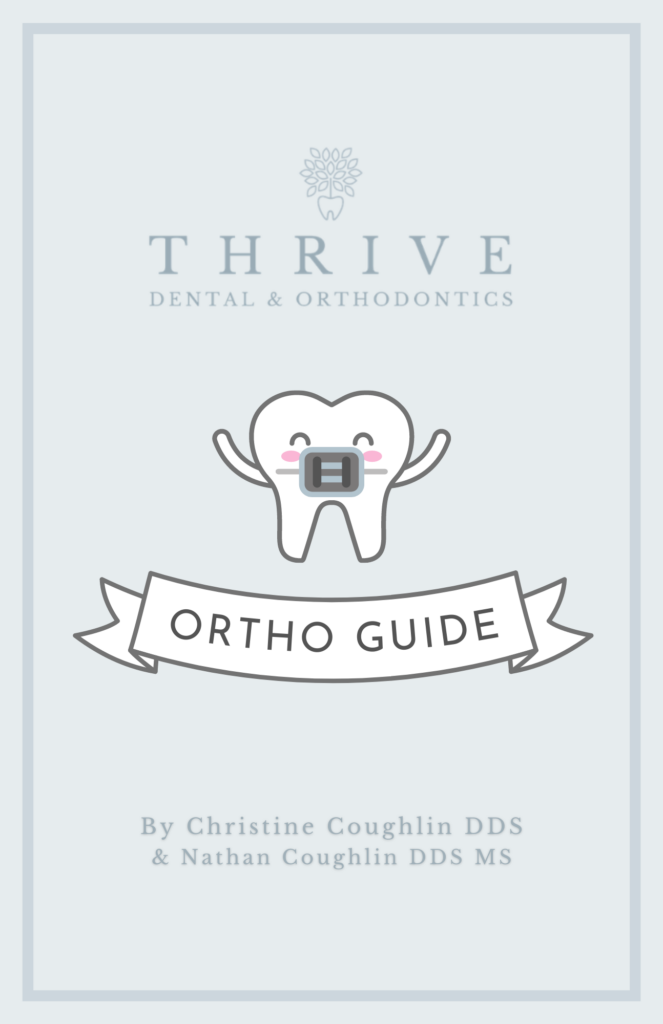 Braces near me
Dentists or Orthodontists will put on your braces. An Orthodontist is a specialist who only works on braces or tooth movement devices such as clear aligners.
An Orthodontist has undergone two to three years of further treatment to become specialized in Orthodontics. They may also take other tests to become a Board Certified Orthodontist.
Download my FREE Ortho Guide, made just for you, to answer all your questions about braces and how to give yourself the best chance at a beautiful smile for life!
Types of braces
Metal braces
Metal braces are the standard braces that have been around for decades. They have gotten smaller throughout time, but the concepts have remained the same. They have prescriptions built into the brackets that help your teeth move in the correct direction.
The advantages of metal braces
Metal brackets are very sturdy.
Steal does not discolor.
They have been around for a long time and are widely known.
You can change the rubber band color at every visit.
They are the most affordable option.
The disadvantages of metal braces
They are the most visible.
Oral hygiene is difficult with braces.
They may break if not treated correctly.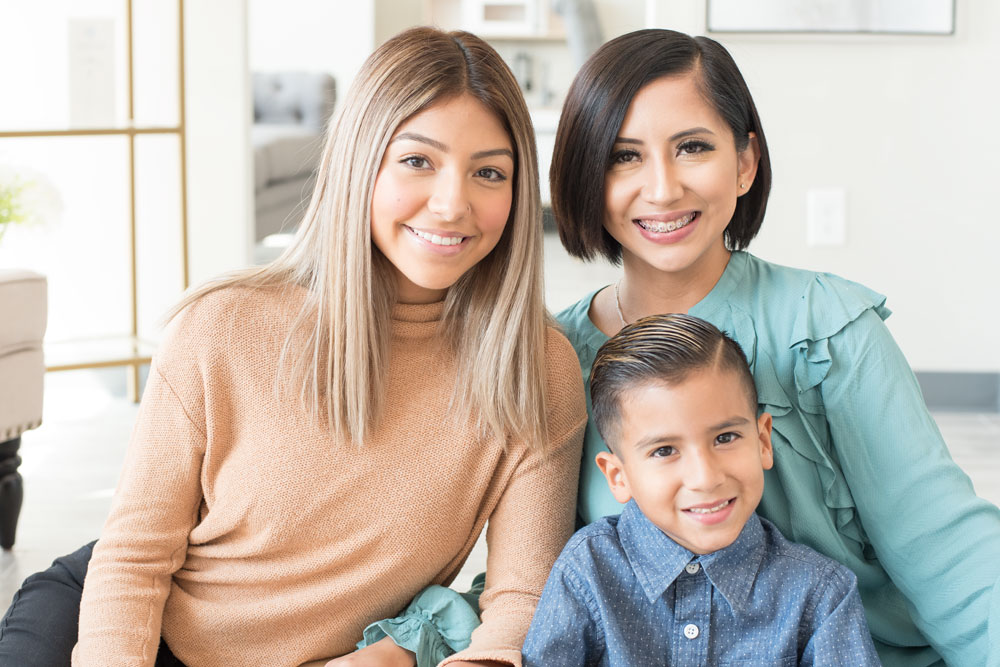 Clear braces
Clear braces work in the same fashion as metal, but they are a clear ceramic that is more esthetic. They are bonded to the teeth, just like metal braces. They have changed a lot in the past few years and are getting stronger.
Clear braces do not typically stain, but the glue (composite) used to bond them can. This staining leads to a yellowish appearance if not cleaned properly.
The advantages of metal braces
They are more esthetic than metal braces.
They are bonded to your teeth, unlike clear aligners.
The technology involved is advancing every year.
Can still choose colors if you desire
The disadvantages of clear braces
The glue bonding them to the teeth may discolor.
Clear braces tend to fracture more than metal braces.
They may be larger than metal braces.
Ceramic braces are more expensive than metal braces.
Invisalign clear aligners
Invisalign has been fabricating aligners since the early 2000s. The clear aligners have advanced dramatically in the past 20 years.
You switch your Invisalign tray every week. Each tray has a different shape and thus gradually straightens your teeth. Invisalign is a very esthetic option and is an excellent option for adults.
Most patients will need bonded attachments that help the trays fit the teeth better.
The advantages of invisalign
Esthetic clear aligners
Easy to maintain excellent oral health
Removable and therefore can remove for essential meetings
No dietary restrictions because you take them off to eat, brush and floss.
The disadvantages of invisalign
They are removable (also an advantage), but this means you may wear them less and get a worse result.
They are more expensive than braces.
Some find it embarrassing taking on and off the trays in public.
You may have a lisp during treatment.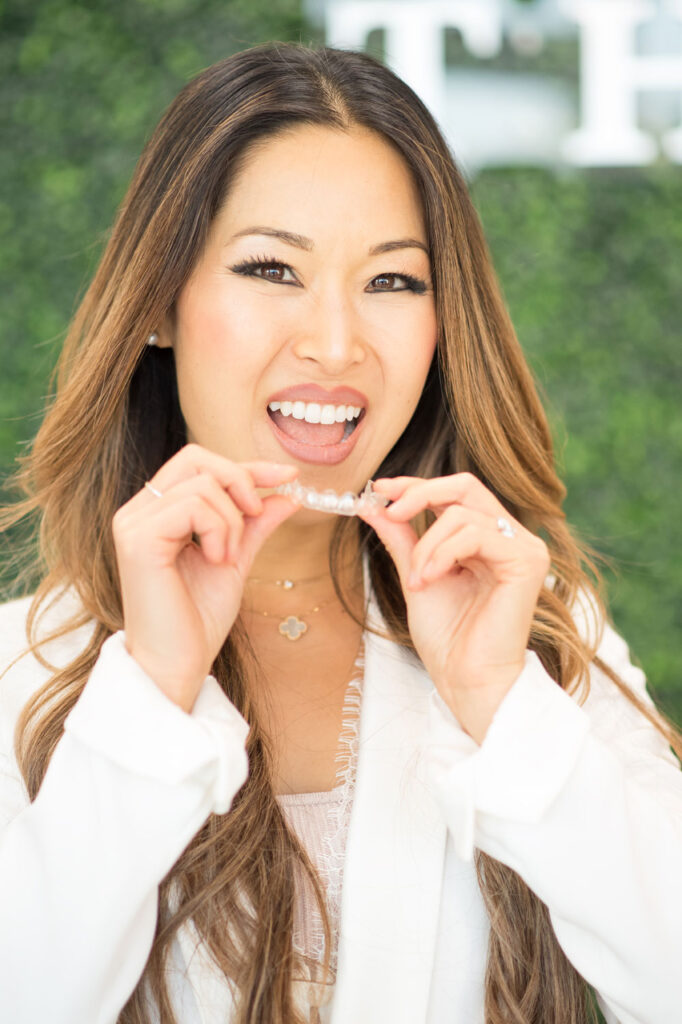 Orthodontist near me
When choosing an orthodontist, look at reviews, previous cases, and the office's overall appeal.
You may want to ask friends and family if they have seen an Orthodontist and go to someone they recommend.
How to choose an orthodontist?
If you have friends and family that have seen an orthodontist, then going based on referral is likely your best option. Look at reviews, office appeal, and staff interactions. If the staff is encouraging and excited to have you as a patient, they likely believe in their doctor.
Reviews are a great way to determine if the overall quality of the office is good.
Braces rubber bands
Rubber bands are used on orthodontic patients to correct their bite. Braces rubber bands are used to correct overbites, overjets, underbites, open bites, and much more.
Rubber bands are typically used further into treatment. The bands are placed by the patient and should be used as directed.
The orthodontic rubber bands come in a wide variety of shapes and colors. The bands are used at night or all the time.
Make sure you ask your orthodontist what the rubber bands are for to see your progression.
Braces colors: color wheel
Braces are fabricated out of metal, clear ceramic, or gold. You can change your braces colors at every appointment. The colors are the rubber bands that are used to hold the wires in place.
The orthodontic colors of the rubber bands can be anything from blue, red, purple, etc. Most orthodontic offices allow you to choose multiple colors. There are even YouTube videos and blogs to help you choose the best colors for you.
Many offices have a color wheel that will help you determine what color you desire. It is a plastic wheel that shows you all of the colors you can choose.
Braces power chain
A power chain is a colored rubber band placed on your teeth to close gaps or rotate teeth. Instead of placing individual colors on each tooth, the power chain is a continuous rubber band that attaches to all of the top or bottom teeth.
Orthodontic power chains typically cause more discomfort than normal colors as they create a lot of pressure.
Adding power chains too early will not speed up treatment as many believe. They have to be used at a particular time to achieve a great result.
Braces wax
Wax can help alleviate any pinching or poking you have in your mouth. It is a temporary solution that the patient places to lessen the pain.
Dental wax is placed on long wires or brackets that are poking. The wax will stay on for a few hours but needs to be replaced often.
We recommend placing wax temporarily and then coming into our office to fix the issue. Using too much wax is not only time-consuming but does not address the underlying problem.
Braces how much do they cost?
The price range for orthodontics is anywhere from $1500 to $6500. The price range varies significantly due to treatment time length, appliances needed, and the method used to move your teeth.
Are braces covered under dental insurance?
Many patients will have orthodontic coverage that can help immensely. Dental insurance will pay $1000 to $3500 towards orthodontic treatment. Your insurance will lower your overall fee by that same amount.
Don't have dental insurance?
And ask us about our exclusive $180/Month Braces Special.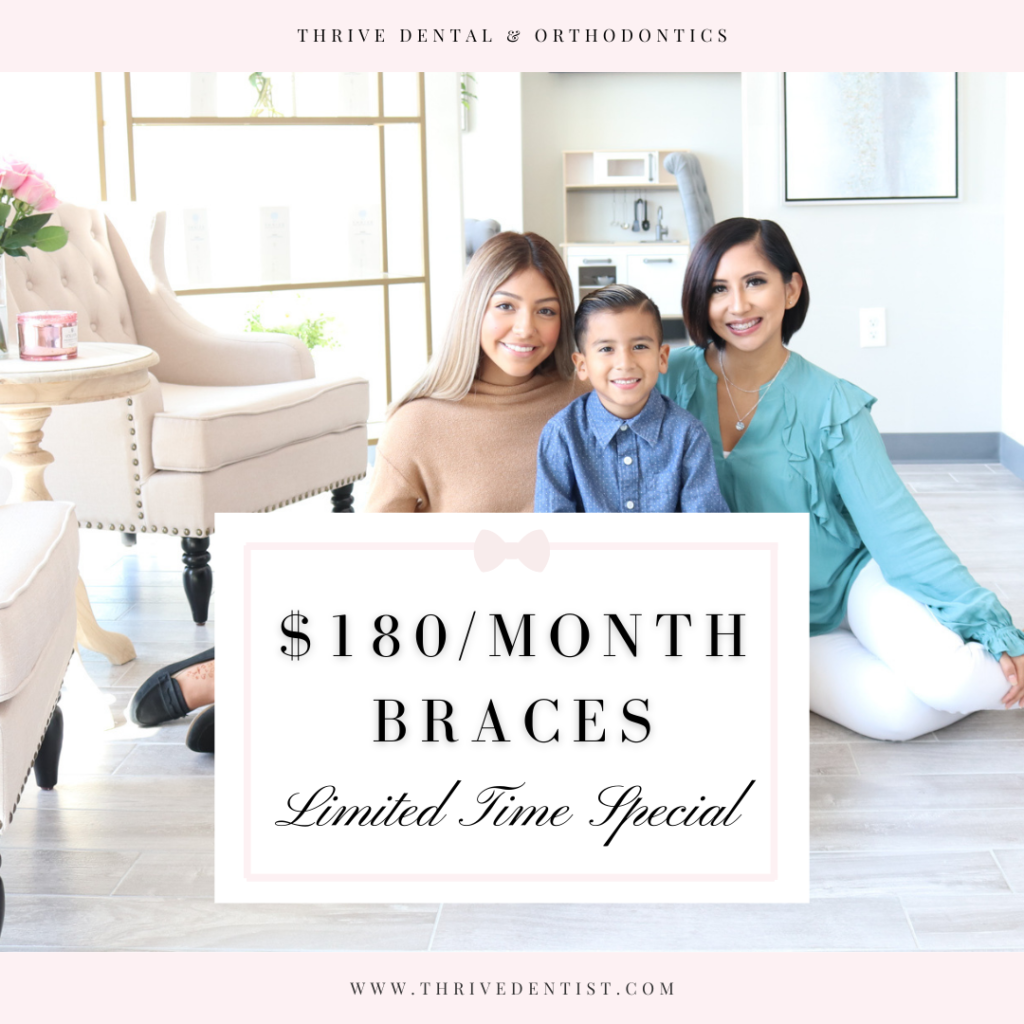 What to look for in my dental insurance: orthodontic coverage?
Waiting period:
The waiting period is the amount of time you need to wait before starting orthodontic treatment. If you obtain insurance today, the insurance provider may make you wait 6-12 months before allowing for orthodontic coverage.
Orthodontic benefits:
Orthodontic benefits range anywhere from $1000 to $3500. They will cover your orthodontic treatment at a certain percentage. Therefore if your treatment is $5000 and insurance will cover $3500 or 50%, you will receive $2500 in orthodontic coverage (not the full $3500).
It is essential to have your orthodontist or treatment coordinator to explain your orthodontic benefits. Knowledge of your benefits will help you understand your overall fee.
Age limits of orthodontic dental insurance:
Many insurance carriers will limit your orthodontic benefits depending on your age. Check your age limit for orthodontic coverage to ensure you are covered.
Does dental insurance cover invisalign?
If you have orthodontic coverage, it should not matter the method you use to straighten your teeth. Your orthodontist can bill the insurance, and they will cover the same amount if you use braces or Invisalign.
Cheap braces near me
You may see prices for braces that are $49 a month or less. These prices are often used as a tactic to get patients to start treatment.
When looking at prices, make sure to verify if there are any hidden fees. Typically the fees should include your monthly visits, X-Rays needed, retainers, molds of your teeth, and broken bracket charges.
When discussing pricing with your Orthodontist or treatment coordinator, make sure those charges are included and that the payment plan is tailored to your needs.
Many offices are running special deals, so if the deal is affordable, ask all the questions needed and receive a great deal.
Remember, if the deal sounds too good to be true, it likely is.
Braces for adults
Adult orthodontic coverage is more popular now than ever. Most adults choose clear braces or Invisalign to straighten their teeth.
Many orthodontic offices will have specialized areas for adults to ensure they have a private room for their orthodontic treatment.
At many orthodontic offices, nearly half of their patients are adults. Many adults have had previous orthodontic treatment, and their teeth have relapsed.
Braces vs. Invisalign
Patients often have difficulty in choosing braces or Invisalign. There is no one correct choice for every patient, and you should talk to your orthodontist about the benefits and disadvantages of both.
Braces are the gold standard of tooth movement but are more visible than Invisalign. Invisalign provides a clear alternative to braces and may be more suitable for business professionals.
An alternative to metal braces and Invisalign is clear braces. Clear offer all the same benefits of metal, but they are more esthetic. Often adults prefer this tooth movement method as it is easier than Invisalign but looks better than metal.
Conclusion
Orthodontics is more popular now than ever. Adults and children can both benefit from straight teeth.
Straight teeth make you more attractive, convey confidence, and help your oral health.
There are many choices to straighten your teeth, so be sure to have as much knowledge as possible before deciding on the best treatment.
Written by Dr. Nathan Coughlin
Learn more:
Braces: what to expect, types, how they work, and care
Braces: Do all of my baby teeth have to fall out first?